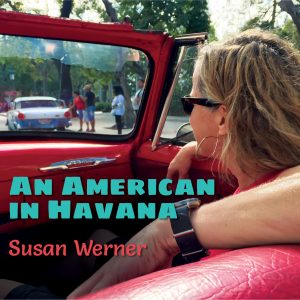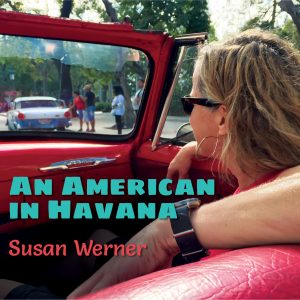 An American in Havana
Chicago musician Susan Werner wrote the six songs of "An American In Havana" during her travels to Cuba in 2015 and 2016, and the recording features her trademark wry, poetic lyrics set to Cuban sounds and songforms.  Produced with Venezuelan drummer Pablo Bencid (who plays timbales and drums) and featuring Cuban American percussionist Mayra Casales, the EP is a vivid, colorful mural of the delights (riding in a vintage American car along Havana's Malecon), the beauty and scarcity (detailed in the lead track) and the obsession with coffee (Cortadito) that are part of every American's introduction to the island.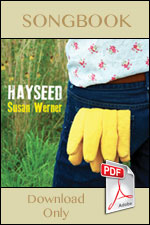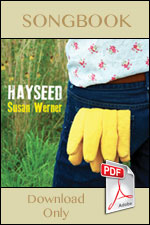 Songbook: Hayseed
2013
This songbook includes all of the songs on the Hayseed project. No piano music, just the guitar chords.
| | |
| --- | --- |
| 1. | Back to the Land |
| 2. | Egg Money |
| 3. | City Kids |
| 4. | Snowmobiles |
| 5. | Bumper Crop |
| 6. | While You Wait For The Rain |
| 7. | Herbicides |
| 8. | Plant The Stars |
| 9. | Something To Be Said |
| 10. | Iowa |
| 11. | Ode to Aldo Leopold |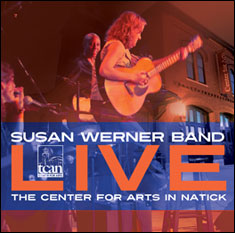 Live at The Center for Arts in Natick
2011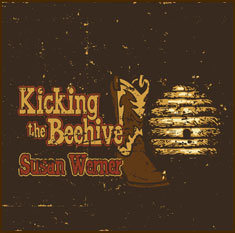 Kicking The Beehive
2011
Kicking the Beehive is an 11-song collection of provocative, poignant, lyrical originals that are infused with the rustic roots of American folk, blues and country music. Produced by Rodney Crowell, recorded in Nashville and featuring such all star-guests as Vince Gill, Keb' Mo' and Paul Franklin, Kicking the Beehive is a personal project where Werner intuitively explorers the full impact of looking beyond the superficial and delving into soulful honesty.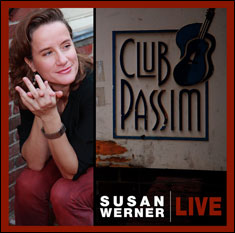 Live at Passim
2008
A collection of live recordings of Susan Werner performing with band from two nights at Passim (May 31st & June 1st 2007) during her CD Release tour for "The Gospel Truth." The band setup includes Werner's long-time upright bass player, Greg Holt, as well as angelic harmonies and percussion from Colleen Sexton and sizzling harmonica, backup vocals and percussion from Trina Hamlin.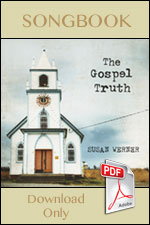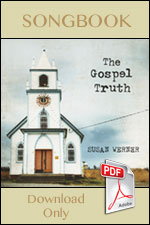 Songbook: The Gospel Truth
Different from the last songbook, which was piano-centric, this sheet music is also great for piano but much more guitar friendly, whether you play with or without a capo. We are providing lyrics and chords for all songs, plus lead sheets/complete charts for five of the most requested songs on the record.
| | |
| --- | --- |
| 1. | (Why Is Your) Heaven So Small |
| 2. | Help Somebody |
| 3. | Forgiveness |
| 4. | Did Trouble Me |
| 5. | Sunday Morning |
| 6. | Our Father (The New, Revised Edition) |
| 7. | Lost My Religion |
| 8. | Don't Explain It Away |
| 9. | I Will Have My Portion |
| 10. | Probably Not |
| 11. | Together |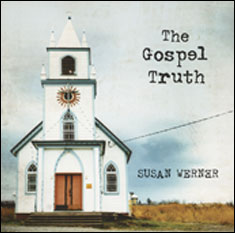 The Gospel Truth
2007
Susan Werner takes on the church in contemporary American life in this gospel/bluegrass – tinged collection of 11 new originals. Quite possibly the first "agnostic gospel" album, this CD surveys the wide variety of viewpoints regarding the church today, ranging from earnest and uplifting handclap choir rousers such as "help somebody" to the introspective and critical "forgiveness" and "sunday mornings," pausing along the way for comic relief in the frank and humorous "our father" and what is sure to become the anthem of agnostics everywhere, "probably not." A project sure to confirm Werner's reputation as "one of the most innovative songwriters working today" (Chicago Tribune).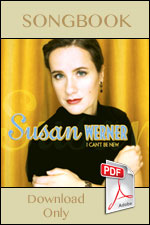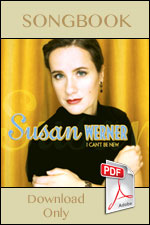 Songbook: I Can't Be New
13 Original songs from the CD I Can't Be New plus two bonus charts: Movie of My Life from the CD Time Between Trains and May I Suggest from the CD New Non-Fiction. Some songs have been transposed for ease of play.
| | |
| --- | --- |
| 1. | I Can't Be New |
| 2. | Late For The Dance |
| 3. | Seeing You Again |
| 4. | I'm Not Sure |
| 5. | Much At All |
| 6. | Tall Drink of Water |
| 7. | You Come Through |
| 8. | No One Needs to Know |
| 9. | Let's Regret This In Advance |
| 10. | Don't I Know You |
| 11. | Philanthropy |
| 12. | Stay On Your Side Of Town |
| 13. | Coda: Maybe If I Sang Cole Porter |
| 14. | Movie of My Life |
| 15. | May I Suggest |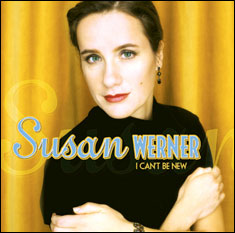 I Can't Be New
2004
Always ready to reinvent herself, in 2004 Susan Werner released her album of instant songbook classics "I Can't Be New" on Koch Records. For years she incorporated cabaret-style numbers in her live performances, exchanging her guitar for a piano (when there was one to be had), and she'd been asked by her audience to put all those songs in one recording. Fans and critics alike sang her praises: the All Music Guide calling it "a brilliantly constructed, soulful, and cleverly tender effort by a songwriter and musician who is in such complete command of her gifts that it's almost scary."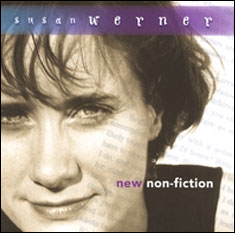 New Non-Fiction
2001
Performing Songwriter Magazine's Editor's Choice, top 10 DIY records of the year. Washington Post: "always an impressive songwriter, Werner continues to compose sharp, funny, compassionate lyrics, a gift rare enough to set her apart…"
Released 2001. Recorded in Nashville in the summer of 2001, NNF was produced by colin linden (producer of the bruce cockburn's charity of night and breakfast in new orleans cd's) and features richard bell on keyboards (from janis joplin's pearl album), dave roe on bass (johnny cash's gut-string bass player) and colin playing tasty slide solos and rollicking electric guitar parts.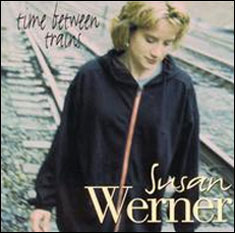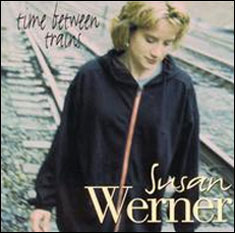 Time Between Trains
1998
Quintessentially Nashville and rich with stand-out performances that highlight Susan Werner's strong songwriting. Produced by guitar wizard Darrell Scott, features the likes of upright bassist Viktor Krauss and legendary timekeeper Kenny Malone.
Released 1998. Bottom Line Records. Recorded in Nashville.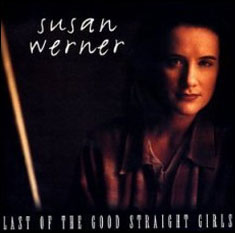 Last of The Good Straight Girls
1995
Released 1995. Private Music. Susan's national label debut (Private Music/BMG) created an audience for her beyond the east coast, with two tours with joan armatrading following this release, recorded in New York City and Los Angeles.
Produced by Fernando Saunders (Lou Reed's long time bass player and collaborator), the cast of players includes Marshall Crenshaw and Mitchell Froom.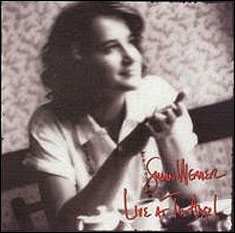 Live at Tin Angel
1993
Released 1993. Collected solo performances from Susan's early years, all recorded at Philadelphia's best listening room, the tin angel located on Second Street in old city Philly.
Highlights include My Mother's Garden, My Soul's Not At War, Society Ball, The Country Send Up, Ain't I Lonely Tonight, and a version of Edith Piaf's La Vie En Rose.
Midwestern Saturday Night
1993
Released 1993. Susan's first recording, made possible by a gift from the late Philadelphia philanthropist Phoebe Valentine. Produced by Grant Macavoy and performed with a cast of Philadelphia musicians, this collection of songs indicates musical styles Susan would continue to explore over the next years of her career.
Highlights include Greg Simon's The Great Out There, The Satirical Baby Boomer Song, Uncle John, and the first recording of the piano ballad Maybe If I Sang Cole Porter.